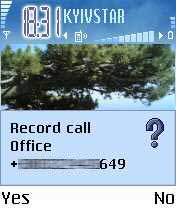 Since my recent run in with dodgy customer services at Three UK, ive decided in future dealings with such people, im going to record the calls.
Ive found the built in nokia voice recorder app on my nokia 6680, which you can access via the "office" icon on the phone "desktop" only seems to record a couple of minutes of speech.  So I had a look on the internet and found "Call Recorder Pro" http://www.getjar.com/products/4700/…rNokiaSeries60
which is a java application. Its free for a 30 day trial, and it doesnt seem to have a limit on call length. I will definitely be using something like that in future if i ever have to deal with those slippery snakes in future.
The way it works is basically whenever you receive or make a call, it asks you if you want to record the call. The calls are recorded in the .AMR format and 1 minute of call takes up roughly 1 megabyte of space, so make sure you have enough space on your phone or memory card first. Its a great little application, highly recommended!
Related posts: